So it's been almost two whole weeks since Occupy Wall Street's May 1st general strike, and as I sit here watching the footage from the day over and over again I just thought it be fun to jot down a few of my thoughts and feelings about where the movement is going and the nature of its form of public disobedience.
First things first, any media organization that labeled the day a failure was all sorts of wrong. A crap-ton of people turned out. At one point, an NYPD estimated 1000 people marched down the middle of 5th avenue. I don't know what more the networks and newspapers were expecting. If I was an organizer I would have been jazzed at the turnout.
It was great to see
Tom Morello
out supporting the movement, but I was hoping to hear about more celebrity endorsements. It's not that you need to have celebrities at these things, and I'm sure there's a healthy amount of people who think celebrities do nothing but distract from the overall message, but they totally bring attention which is something this movement is always trying to attract. They could have used Michael Moore, or Jane Fonda, or Radio Head. Hell, I would have sprung for a guy in a Barney suit.
The interaction between protesters and police was mostly courteous, but also kind of ridiculous. My favorite exchange was the one below. A group of protesters sees one of their own arrested for writing graffiti on a wall. After he is taken to a van, they run down the street berating the police officers next to them and singing, "We all live in a military state" to the tune of the Beatles, "We all live in a yellow submarine".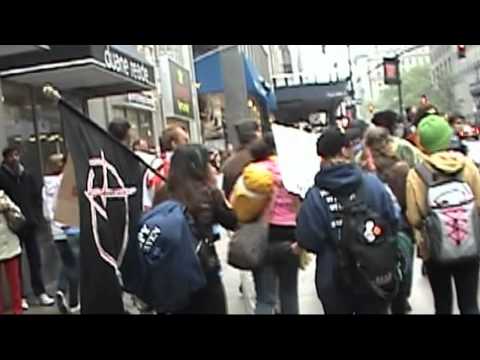 Honestly, I saw way too many protesters choosing to provoke police officers. I never really saw a police officer say anything threatening back, but I'm sure the first chance they got to toss someone into the ground they did it with a little more malice than usual. Who could blame them? Provoking police officers in a protest setting might be the dumbest shit you could ever do. They're already amped-up and on high alert. You're getting in their face and calling them a "fucking pig". So what do you think is going to happen when the time comes for kicking ass? Worse, it has NOTHING to do with the reasons you're there. The OWS people like to make a big deal about the way cops treat them, but it is definitely a two-way street. Can't we all just get along?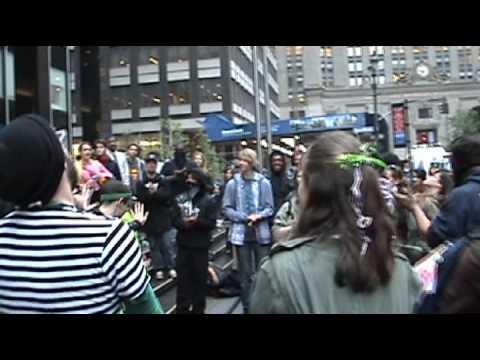 Later in the night a lot of people got arrested when the General Assembly ended and the NYPD started telling everyone to leave the Vietnam Veteran's Memorial (which is absolutely beautiful by the way). Problems arose after people had left the park and were then flushed into the narrow streets of downtown Manhattan. On the narrowest street (I think it was either Pearl St, or Stone St, or S. William St) protesters clashed with police in what turned into the messiest part of the day. The cops were totally at fault here. I don't know what the plan was for funneling people out of downtown Manhattan, but it almost totally failed. There are dozens of videos online of the things that went down on that street, seek them out. The one below is my own, and was an arrest that happened after the main melee.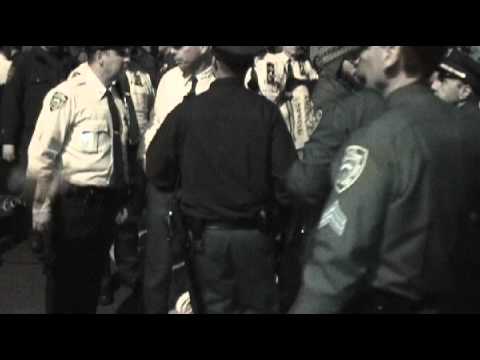 Eventually people moved from the narrow streets into wider streets, but the damage was done. People were getting arrested pretty much left and right. Protesters were told to walk on the sidewalk, then moved off of the sidewalk. Then, the NYPD started closing sidewalks all together and you didn't know which way to go. I followed a group of protesters to the Chase building on Pine St. where a line of cops were guarding a fence in front of the building. The story that one OWS person was yelling was that Chase had made a huge donation to the NYPD and, in turn, the cops were protecting the building. I don't know if that's true, but it was definitely the only building that had a line of cops planted in front of it.
Well, almost the only building. Wall St itself was guarded like Fort Knox. There were rows of beat cops, fences, cops on horseback behind those fences, and then police cruisers and more fences behind them guarding the other streets. It was wild. I had never seen so many police officers gathered in one area of the city. Never. Naturally, the Wall St bull also retained its now customary honor guard.
In all, the day was definitely a success for OWS. The movement certainly proved that it still has legs, the challenge now to keep the momentum alive as the summer comes.